Post by Deleted on Aug 11, 2020 5:09:25 GMT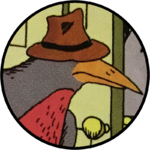 The Asian aspects of the story are entirely superficial--window dressing for the setting and, in the case of the Abbot, tiresome Orientalist tropes. It's really hard to wrap my mind around the idea of a two hour story set in Hong Kong that completely avoids any exploration of Chinese culture.
Yeah, I can understand that frustration. I can't say anything definitive for the author Jonathan Clements's thought processes, but his perspective is rather interesting. His writing background has become heavily entrenched in works dealing in Eastern history and cultures. He can speak both Japanese and Chinese dialects, did a Master's at university on Japanese manga and anime exports, and his contemporary bibliography looks something like this:
The Moon in the Pines (2000, reprinted in paperback as Zen Haiku, 2007)
The Anime Encyclopedia: A Guide to Japanese Animation Since 1917 (1st ed. 2001, 2nd ed. 2006, 3rd ed. 2015, with Helen McCarthy)
The Dorama Encyclopedia: A Guide to Japanese TV Drama Since 1953 (2003, with Motoko Tamamuro)
The Pirate King: Coxinga and the Fall of the Ming Dynasty (2004, publ. in paperback as Coxinga, 2005)
Confucius: A Biography (2004, expanded 2nd ed. 2017)
A Brief History of the Vikings (2005)
The First Emperor of China (2006, 2nd ed. 2015)
Wu (2007, 2nd ed. 2014)
Beijing: The Biography of a City (2008, 2nd ed. as An Armchair Traveller's History of Beijing, 2016)
Mannerheim: President, Soldier, Spy (2009)
A Brief History of the Samurai (2010)
Admiral Togo: Nelson of the East (2010)
A Brief History of Khubilai Khan (2010)
Sun Tzu's Art of War: A New Translation (2012)
An Armchair Traveller's History of the Silk Road (2013)
Anime: A History (2013)
An Armchair Traveller's History of Finland (2014)
Christ's Samurai: The True Story of the Shimabara Rebellion (2016)
A Brief History of the Martial Arts (2016)
So the lack of an Asiatic perspective is comparably rather strange. It's not as if he's unqualified, certain touches do make themselves manifest here and there. Like the Doctor's recollection of being known as
Hu
and
xue
, his memories of the weeping villagers on the shoreline as the British arrived and the characterisation of Brimmicombe-Wood as just being a nasty piece of work. Actually, that's something I've noticed about the story. It has a predominantly Western perspective, true, but it's a fairly tarnished one. The Brigadier, for all his work trying to save his people at home under impossible circumstances, is rewarded with exile. More than exile, active ridicule and rejection by his peers. It doesn't paint a particularly pretty picture of the Doctorless Europe.
Still, all of that in place, why the oversight? I've a feeling... Maybe Clements, given his background, didn't feel comfortable providing that Chinese perspective as a Westerner. Knowledgeable or not. He might have considered that outside his purview as a script writer.