Post by glutamodo on Sept 9, 2016 22:33:37 GMT
I'm going to start a new thread for this. Yesterday, on the 50th anniversary of the airing of the first episode of Star Trek, we've released our episode "Tomorrow's Excelsior" in which the characters from our free-download Audio Drama series, Starship Excelsior, interact with several characters from the past of the The Original Series (and the movies)
We did a Kickstarter last winter to raise funds that enabled us to hire actors like Walter Koenig and Nichelle Nichols, (among others!), and then we all spent a lot of time in this spring and summer, honing and polishing this episode.
Here's the announcement that our Executive Producer sent out last night:
Dear fans and friends,

50 years ago tonight, Star Trek appeared on our screens for the first time. Though it seemed at first to be a failure, Star Trek turned out to be one of those very rare shows that doesn't just change the face of television: it changed the world. From all of us at Starship Excelsior, happy anniversary.

As you may have heard in past updates, we've put together a special episode to celebrate the 50th Anniversary, and we are proud to announce the release of "Tomorrow's Excelsior." You can get it now from www.StarshipExcelsior.com, and it will be available on our on iTunes and Google Play stores presently.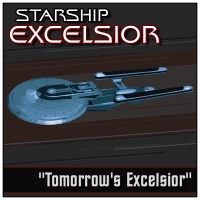 It's a one-of-a-kind episode of Excelsior. We've never done one like it before, and we never will again. We hope you enjoy it, and welcome your feedback. We are planning a live Q&A session about the episode for next week; if that interests you, stay tuned to our Facebook page for details.

Other than that, we're going to be taking a hiatus for the next few months. Between "Meeting Minutes," "Fear Itself," "The Mapstone", and "Tomorrow's Excelsior" – which was more work than the other three combined – we have been pulling all-nighters for months on end, and it's time for a break. We have a little content we'll put out during the break to fill the time, and we'll be back for real in 2017!

Thank you for your continued support of Starship Excelsior!

Sincerely,
James Heaney
Executive Producer
Starship Excelsior: A Star Trek Fan Production