Post by Deleted on Sept 13, 2019 6:43:30 GMT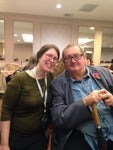 And also you said Sigmund Freud was full cast but so is this. There are 6 actors.
I mean at least we can both agree it's not expensive.
All this talk of actors being well known or not reminds me of my mum....it's a bit off topic but I thought I would share.....many of these names will probally not be known to our US friends but still....
my mum went to a friend of hers mayday party, when she came back she told me she had been talking to a lovely young man for much of the evening and thought he was a doctor!
later in the year we sat down to watch the launch show for strictly come dancing.....and when Tom chambers came on she shouted that's him, that's him the lad I talked to at the party, why have they got doctors on here now.....Tom chambers played a doctor in casualty!
mum went to a dinner held by our local MP who she knows quite well (Margaret Beckett.....deputy labour leader at the time) and sat next to a man who she chatted too, she came home and said nice man but a bit boring kept talking about all these people she had never heard of and his show.....that was Melvyn Bragg, Lord Bragg as he is now!
we we went to see the touring production of beauty and the beast, parked in the car park and she went to check that it did not close before the performance finished, there was a man chatting to the car park attendant & he assured her that it would be finished in time. She then went on to say how marvellous the show was in London and how the tours were not as good as they used 2nd actors & musicians!
when the show started she whispered to me....That man there playing lumiere he was the one I talked to in the car park!
oh mum
she has done it all her life, she has been talking & introduced to many well known people over the years Barry gibb, Brian Connelly of the sweet, Peter Andre & other all without a clue who they were until well after the event.
Love that she is so untainted by Fame 😎😂