Post by omega on Sept 7, 2017 8:15:27 GMT
SURVIVORS » 7. SURVIVORS SERIES 07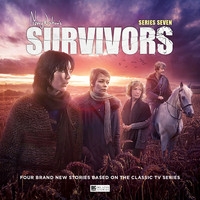 Released November 2017Synopsis
The world has ended. 'The Death' pandemic crossed continents, sparing only a fraction of the global population.
The survivors are now trying to pick up the pieces and rebuild society - to create a new future.
But with no cities, no laws, no technology, everyone must start over. And the worst of human nature has survived along with the best...
Four new battles for survival, from the world of Terry Nation's cult-classic series.7.1 Journey's End
by
Roland Moore
Alone and resolute, a mother has spent the years since the Death searching for her son. She is closing in on her final lead. One last hope to find Peter.
But for Abby Grant, the worst possible thing might be to find what she is looking for…
7.2 Legacy
by
Simon Clark
Greg Preston is dead. But the work he did in forging his foundation, in bringing communities together, lives on.
When she and Ruth encounter those whose lives he touched, Jenny Richards is forced to remember how the man she loved abandoned her. But when she meets a common enemy, can she find the strength to make a stand?
7.3 Old Friends
by
Matt Fitton
Ruth Anderson and Evelyn Piper unite on a mission of mercy. An old friend is in trouble and in the path of dangerous forces.
Jackie Burchell could reveal secrets that change lives. But first, she must find her own way back. When things are at their worst, it's old friends who keep you going.
7.4 Reconnection
by
Christopher Hatherall
As Jenny continues her plan to restore electricity across the country, she meets someone she never thought she'd see again – but it's a very different Abby Grant to the one who left the Grange.
Not everyone is in favour of Jenny's project, and the women find danger in a remote power station. It may be too late for them to reconnect…
NOTE: Survivors contains adult material and is not suitable for younger listeners.
Written By:
Roland Moore, Simon Clark, Matt Fitton, Christopher Hatherall
Directed By:
Ken Bentley
CAST
Carolyn Seymour (Abby Grant), Ian McCulloch (Greg Preston), Lucy Fleming (Jenny), Louise Jameson (Jackie Burchall), Helen Goldwyn (Ruth Anderson), Zoë Tapper (Evelyn Piper), Katherine Rose Morley (Sonia Meadows), Brian Protheroe (Abraham / Gruff), Ewan Bailey (Garth Warren / PA Announcer), Harry Myers (Neville Trent), Susie Emmett (Sylvia Jeffries), Graham Seed (Barstow/ Soldier), Justin Avoth (Clock-Winder / Blair), John Banks (Daniel Connor), Alistair Mackenzie (Nick), Jamie Laird (Ewan)