Post by Deleted on Apr 10, 2020 11:09:46 GMT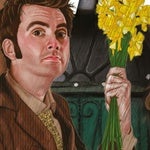 Thanks.

I've been trying to think of a good analogy for continuity for a while and I think you've just help me strike on it.
It's like a mechanical puzzle. Ornately decorated. Intricately constructed. The sort of thing that draws a person's eye to where it's stored on the shelf. There's a real sense of satisfaction to pulling it apart and putting it back together again. That click as everything falls into place and "Aha", there it is. But sometimes, just as equally, it's nice just to look at it. There's a craftsmanship to its components and to its whole.
Absolutely, I don't think I could have put it better myself and I think that is actually my own attitude towards continuity. Sometimes I am very interested with how it all slots in, sometimes I can just enjoy it because I enjoy it.
I am a fan of both Doctor Who and Star Wars and I find it interesting how different their approaches to the expanded universe are. Big Finish, for example, do a lot of what we might call "fanjodrell", as in character X meeting character Y, but don't do continuity as much, as in making sure everything links together. Don't get me wrong, they have done it before, and I think the consensus is that it's their main thing, but I'd argue it isn't their MO.
Star Wars, on the other hand, seems to let its placement drive what expanded universe it creates. Their recent runs of Darth Vader comics were made explicitly to see Vader during the events between A New Hope (or Star Wars) & Empire Strikes back, or another that is directly following Revenge of the Sith. Indeed, they recently began a run of Vader immediately after ESB. In contrast, I am intrigued to see where they go with their High Republic era spanning different mediums.
I hope I explained
Oh, you did, absolutely.
Star Wars
has that tiered system, doesn't it? A-Canon, B-Canon and so forth; at least for the Legends stories, right? I think
Star Wars
is a particularly interesting franchise to explore decade-by-decade because there were such markedly different interpretations of its universe from film-to-film. The characters themselves change quite dramatically over what's a comparatively short period of time. In contrast, the Doctor does have incarnations with narrative arcs, but is, for the most part, static across a fair number of his lives. It's the universe around him that tends to warp and wend its way over the years. He's not going out to make history, per se, but just enjoy it for what it is.
I find I tend to gravitate more towards incarnations with that more explicit introspection and development. It can be small, like, I love how we can have an entire short story about someone stealing the Sixth Doctor's coat and why it's so important that he get it back. That's a nice glimpse into his psyche. It can also be big, the Third Doctor ruminating on his own hubris and choosing to face that which he fears most for his own betterment as well as that of others. To have those options in a character is really quite great.