Post by omega on Jun 18, 2018 9:58:02 GMT
DOCTOR WHO - RAVENOUS » 2. RAVENOUS 2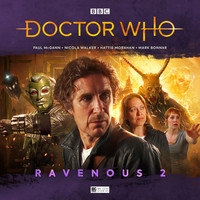 TBR October 2018Synopsis
Having reunited his companions, the Doctor decides to lift their spirits by treating each of them to a trip to their home world.
On Kaldor Liv is confronted by a face from her past, and on Earth Helen must summon all her skill and knowledge to help save her friends from eternal damnation.
But try as they might to stay out of danger, dark forces are emerging. Dark enough to strike fear into the hearts of a Time Lord.
2.1
Escape From Kaldor
by
Matt Fitton
Returning to a home world she'd rather forget, Liv reluctantly accompanies Helen to the grand opening of a luxury shopping mall. But when a glitch in the system sends the Robots of Death on a rampage, Liv's past comes crashing down about her.
2.2
Better Watch Out
by
John Dorney
The Doctor hopes to take Liv's mind off recent events by treating his companions to a traditional European Christmas. But not everybody is full of the spirit of Christmas when a wave of misery follows the Krampus as they run through the streets of Salzburg.
2.3
Fairytale of Salzburg
by
John Dorney
With the Doctor and most of the population condemned to hell, Liv and Helen race against time to discover the source of all this chaos, and to find the one man who can save the people of Salzburg from eternal damnation.
2.4
Seizure
by
Guy Adams
As if it wasn't enough to be trapped in the labyrinth of a dying TARDIS and pursued by a ghost, the team find themselves face to face once more with the Eleven. But the Doctor has bigger things to worry about when he discovers they're being hunted by the only creature to strike fear into the hearts of a Time Lord: The Ravenous.
Written By: Matt Fitton, John Dorney, Guy Adams
Directed By: Ken Bentley
CAST
Paul McGann (The Doctor), Nicola Walker (Liv Chenka), Hattie Morahan (Helen Sinclair), Mark Bonnar (The Eleven), Claire Rushbrook (Tula Chenka / SV111 / SV23), Richard Popple (Kit Laver), David Rintoul (Galla Posca), Tracy Wiles (Hadway / Salma / V75), John Dorney (Sol / Security Guard / Comtech / V21 / V616), Jamie Newall (Shafranek), Carla Mendonça (Waltraud Raither / Imp 1), Kate Rawson (Inge / Imp 2), Ewan Goddard (Christophe / Krampus Runner), Robert Whitelock (Bruno / Vagabond / Priest), Siân Phillips (Pilgrim), Raad Rawi (Bishop) Kate Duchêne (Antonia Werner), Susan Hingley (Maria Werner), Pippa Haywood (Jaxa), George Asprey (Ravenous). Other parts played by members of the cast.