Post by sherlock on May 11, 2020 16:00:38 GMT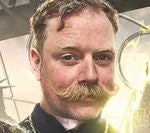 docs.google.com/spreadsheets/d/1aVnz23GLZPMWZ0TxTTwOhXDN_wrtkvlJWhDal55ir00/edit?usp=sharing
In this Google document, I have expanded this timeline to include practically
everything
. DWM comics, Torchwood Magazine short stories, DWA comics, Titan comics, NAs, EDAs, NSAs...There will be things I've missed (I haven't really looked at the Erimem series nor Candy Jar's Lethbridge-Stewart).
Surprisingly few issues. The main problem is Torchwood, which is hideously inconsistent.
Pack Animals
is Halloween and is before Gwen's wedding, yet
SkyPoint
is in September and is after Gwen's wedding. There's a short story where Jack, Gwen and Ianto mark New Year, but that doesn't match both
Fragments
and
Children of Earth
being in 2009. I'm guessing the Rift screwed with time a bit, or that Owen and Tosh just were busy on new year.
This looks great from what I can see, just two things I noticed:
Death in Blackpool is set in 2008. They were aiming for 2009 as that was Lucie's present day, but ended up arriving a year earlier while she was still on earth during their separation between Series 2 and 3. Or at least, that's the only way it makes sense as Lucie is explicitly from 2006 but Death in Blackpool is explicitly set in 2008.
The Class timeline is way too tight for The Creeper to come as late as it is. As For Tonight We Might Die ends October 14 and The Coach with the Dragon Tattoo takes place a week later but also over 4 consecutive school days. A computer monitor actually says it ends on a Thursday which would mean it began on a Monday. A week on from October 14 is October 21, but then we need to push it a few days further to make it to Monday. So Coach with the Dragon Tattoo starts on Monday 24 and ends Thursday 27. Then you've only got a couple of days before Halloween and The Creeper happens. Also Night Visiting also has a computer monitor which says it takes place on a Thursday if that's any use to you.
Also about the Torchwood thing, it's just gonna keep getting worse. Like the upcoming Tosh/Ianto story is set during Valentines Day, but there's only one definitive year they could've been together then, which would be in 2008. But it'd also be during Jack's absence between Series 1 and 2 unless there's a huge gap between Out of Time and End of Days. So basically if they mention that Jack is around then it'll have to be moved to 2009 which will pretty much confirm that Series 2 does spill into that year and then that New Year short story will be screwed up.
I'd forgotten some of the specifics of the Lucie Miller stories so that's been fixed.
The Creeper
has been moved to just after
Dragon Tattoo.