Post by Whovitt on Mar 22, 2020 11:50:33 GMT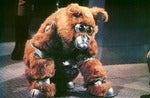 Revenge
(genuinely coincidentally I might add), Sarah Jane does say weeks, but the Doctor says almost immediately after how Time Rings were faultless except for molecular disruption (or something very like that). While not definite, it would take a hell of a lot to convince me that anything could go between between
Genesis
and
Revenge
. By the way, when was it said the Time Ring was faulty?
Regardless, this story couldn't take place before
Revenge
anyway, as Sarah and Harry don't know what Cybermen are yet, and a convenient mind wipe would be a bit disappointing at the end of a
Lost Story
.
Oh I didn't mean 'Return', it's an alternative story isn't it and I hope they just do it as that instead of trying to fit it in with 'Revenge'. I meant
new
Fourth/Sarah/Harry stories as yet undreamed of.

Yes, the Time Ring is faulty! The Doctor says nothing can go wrong with one except a molecular short-circuit - implying that's what has happened, and that's why they didn't arrive back on 'their' Nerva but thousands of years before when it was still an asteroid beacon. The novel makes this much clearer than the TV programme - he puts it to his ear and shakes it as he says it! - and the Doctor also says not to worry because the Time Lords will notice and send the TARDIS back through Time from future Nerva to meet them at the point they arrived. Presumably this wasn't made clear in the TV programme because as we know they ran out of time with the script rewrites, and this is one point that got a bit blurred.

I'd be very surprised if
Return
wasn't reworked so it could be set in the TV timeline, as 99% of everything Big Finish has ever made is designed to do that. As for new Four/Sarah/Harry stories, I'd always assumed
How to Win Planets and Influence People
and
#HarrySullivan
were both set post-
Revenge
, as they both involve TARDIS use. I don't see why we'd need to go to the effort of slotting stories between
Genesis
and
Revenge
. Even if it did happen there's no reason to continually have them travelling with a faulty Time Ring when the Doctor doesn't have that much mastery over steering the TARDIS at this point. It would seem like an excuse for setting stories in that period purely for the sake of it and, other than the story Wolfie mentioned above, I don't really see the need to put any stories there when it's much easier to set them after
Revenge
.
Ah, but that's one of those blurred lines things. The novelisation can do whatever it wants, but I'm one of the "TV and audios" only kind of people. I get the Target books are integral to many fans, but there are too many little bits that just don't add up. Look at
The Daleks
or
The Doomsday Weapon
- they change things so that entire stories never happened. If it comes down to picking and choosing what bits from what novelisations count, it stops being a general rule and only what an individual wants. At that point what really matters from the novelisations if it's all disputable?