Post by mbt66 on Apr 16, 2020 11:07:06 GMT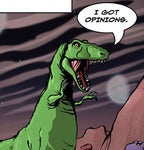 What if the Eighth Doctor does something that majorly affects his past selves' established TV timelines in some way? Like, he saves one life in 1950...

But that guy ends up replacing the Brigadier, changing the Third Doctor's time on Earth...

He makes aliens public following the Loch Ness Monster incident...

He captures the newly formed Fifth Doctor following his fall from the Pharos tower...

He allies with and betrays the Cybermen during Attack of the Cybermen, gaining their time travel technology...

He shatters time completely and the Tenth Doctor comes to stop him (recognizing the mistake he made in his previous life) but the Doctor is killed... Leaving the Seventh Doctor to figure out what's gone wrong and plot a way to clean up the mess (using his past and future selves as pawns).
Too similar to Legacy of Time? What about, instead, for sixty years of Doctor Who...
You just go all out and celebrate every decade individually!

60s. The Second Doctor, Jamie and Zoe end up trapped in 1963 London and must avoid the Doctor's first incarnation.

70s. The Third and Fourth Doctors deal with the same UNIT crisis in two different years.

80s. The Fifth, Sixth and Seventh Doctors are all time scooped, alongside their companions in an homage to The Five Doctors with some twists and turns.

90s. The Seventh Doctor, Chris and Roz end up crossing swords with an early Eighth Doctor.

00s. The Eighth Doctor and Lucie meet the Tenth Doctor when the TARDIS is summoned to Earth by Jack Harkness.

10s. If either of 11, 12 or 13 is on board with BF, they're the ones who sort out the Big Crisis! (Probably alongside Kate Stewart or the Paternosters!)
Oh, I can already think of a title and tagline for the first scenario:
DOCTOR WHO: FIGUREHEAD

"One life can change the world, it's up to the Doctors to stop them."
I like the idea of something radically changing the past for the Doctor.
I know I have suggested previously that the Earth has been destroyed, so the Doctor never has the affinity with the planet and it's people. The fact that it was destroyed in the Earth's past, but in the Doctor's future means his timeline has been altered to compensate. So he is now travelling with non-Earthlings and is a bit more nomadic as he has never found an Earth planet substitute to call home. But he has a nagging feeling that something is wrong. The multiple Doctors come together to correct their own timeline and restore the Earth.
(This has probably already been done)