Post by Deleted on Jun 30, 2021 22:33:50 GMT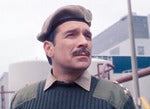 See, that's a rather interesting point. Established
Doctor Who
performers doesn't necessarily mean the big hitters we tend to think of either. I'd be very happy to sit and listen through a project starring -- to pick a name out of a stovepipe hat -- Chris Walker-Thompson, for instance. Better known these days for unofficially playing the Second Doctor. We've some really effective imitators and character actors floating about in space and time these days. There's definitely wriggle room to explore the same narrative space (if not necessarily on the same budget).
The tough part with these sorts of things is determining that dreaded thing called "brand". Something people can snap their fingers at and go: "Oh, they do [X]". Big Finish conjures up images of classic Doctors and new stories, Candy Jar of old soldiers and vast Intelligences, Reeltime of documentaries and unexpected docudramas, Cutaway Comics of
Doctor Who Weekly
's Doctorless backup comics, and so on. Once that's cracked, the rest should follow from there.
The change from the days of having Jon Pertwee, Peter Davison, Colin Baker, Sylvester McCoy, Nicholas Courtney, Caroline John, Elisabeth Sladen, Sarah Sutton, Nicola Bryant, Sophie Aldred, et al. as BBV performers down to Bill Baggs (the director) being mainly the company's only actor and having an unknown play Liz Shaw (when the previous 4 P.R.O.B.E. moves had Caroline) is too drastic of a come down for little old me to want to follow Bill's new output.
I do have an admiration for Bill Baggs' past works during the time period when we didn't know if us fans would ever see Doctor Who brought back to television again.

Agreed, they're a nice insight into how
Doctor Who
was trying to innovate in the 1990s. Keeping the essential elements while simultaneously exploring something new.
PROBE
, for instance, isn't where I would've expected to find Elizabeth Shaw, but everyone makes the premise work. One of the most distinctive parts of her character to me is her little musing in
The Devil of Winterbourne
about the smell of rusted watering cans and decaying flowers. The reminder of visits to her grandmother in the cemetery and the door that had fallen into some waste ground nearby that she was afraid would open one day and show her what lay within. It feels genuine and the almost supernatural nature of the threats in that series play plausibly into the ethos of Liz's original tenure on the show. Alien invaders? Perhaps, perhaps.
If I had to pick a favourite, though...
In Memory Alone
would probably be it. (
Auton
, a close second.) It uses what limited resources they have to produce something quite atmospheric, buoyed up by the interactions between the Stranger, Miss Brown and the Man on the Platform. It could easily have come away feeling more like an episode of an anthology series like
The Outer Limits
or
The Twilight Zone
, but its hard not to point at the story -- particularly its resolution -- and think of
Who
.