Post by elkawho on Sept 16, 2022 18:12:36 GMT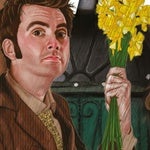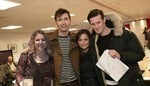 And yes, the Nyssa story is more restrained, but isn't the whole of the Fifth Doctor era emotionally restrained? It always seemed that it was a conscious choice of JNT to make it that way. No physical contact, no humor, nothing too emotional. Even after Adric's death. Yes, it has loosened at Big Finish, but I always feel like the actors are pushing up against that restraint, even in audio. And that's what makes a lot of it work. So 10's interaction with Nyssa seems much more genuine than if he approached her with the same kind of emotional response as he does with Leela, or especially Ace, who is an emotional powder keg in the best of situations.
I'm so glad we have as much 10th Doctor content as we do right now. I know it won't last, but I'm relishing every last minute of it. I'm so very glad they did this set.
I think you're misunderstanding the other posts in this thread and as a result your post reads overly hyperbolic because it's defending something nobody's actually said.
Nobody mentioned emotional weight with regards to Splinters.
denyer97
said it wasn't their cup of tea, which is fine, not everything is. I said it lacked depth because it, quite frustratingly, never really goes beyond references to the events of Casualties of War. The interaction becomes stunted due to the placement. Not to mention there is then a twist in the story, that is revealed too late in, that means it's not properly been Leela. I don't disagree that the Doctor means so much to Leela, but we know that already, she's met enough incarnations. And I agree that the "Hello Savage" lands well, but that should be the start of something, not the epitome of it.
denyer97
said that The Stuntman lacked the emotion of the other two stories and I said it lacked the heart that you think the writers thinks it has in spades. And I maintain that. Nyssa doesn't actually appear until the last few minutes and the interaction between her and the Doctor is just flat. It's partially flat because, for me, the heart in the story didn't land, so to only get Nyssa in the final minutes is disappointing, but to then do nothing with that is bizarre; she accepts it's the Doctor, thanks him and he buggers off. Your talk of restraint on screen is at complete odds with what The Stuntman is trying to do. I don't understand how you could defend and praise it with the reasoning of it's how the era was on screen. Apples and oranges.
I completely appreciate that everyone has their own opinions. I'm really glad you got a lot out of the set, but reading your post seems not only a misunderstanding of what others have said, but I think it's at odds with what's presented in the stories in order to defend them.
I suppose it just seems odd to me that they've scraped the gimmick barrel to produce this set, but then have two of the stories not really being the companions and lack any depth beyond the high level concept of Ten meets a classic companion. It's also odd to me that they had three natural cliffhangers to pick up on that all relate to the Time War and its fallout (which is supposed to be the linking premise of the three stories!) that offered the perfect opportunity for some more meaningful stories. Instead we get a trio of stories that, for the most part, don't feel very satisfying as overall stories, nor do they really fit the criteria of what you'd expect to get with these reunions. School Reunion and Death of the Doctor they're not.
Overly hyperbolic? Really? Wow, that whole post was quite condescending. I liked something you didn't and tried to describe why. I wasn't trying to defend it. I really don't care if no one else but me enjoyed it. But I was trying to describe my reaction to the set as it related to the other posts I was reading. Did I misunderstand them? Maybe. But your opinion is just that. An opinion. It does not make mine wrong. I realized a long time ago that you and I have very different tastes, and that's ok. We get very different things out of these audio stories. And yes, I get excited when I enjoy something. If that's "overly hyperbolic" then so be it.