Post by timegirl on May 19, 2021 0:14:39 GMT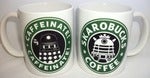 Oddly I have the exact opposite opinion about Nova and Rose. For me the romantic elements between Rose and 9 is what made them feel more real and gave me something to care about watching them. I never once even questioned the age difference because to me they felt like equals in the relationship. It made it feel like the two were somehow more special to each other. The romance made Rose and 9 feel more memorable and emotional and to be honest I wouldn't not have cared as much as I did about 9 and Rose if that element wasn't there.
With Nova I don't have as much to hold onto and care about with her relationship with 9. While I wouldn't want 9 and Nova to necessarily have a romance because not every Doctor/Companion relationship needs to be romantic and I think to give 9 another romance with a character with a similar backstory would cheapen his later love story with Rose, I would like a bit more of reason to care about the relationship between Nova and 9. Some sort of deeper connection between the two.
The romantic nonsense is one of the things I have hated since the series came back. The show did quite well for decades without every companion trying to get it on with the Doctor. Same goes for returning to earth so the companion can check in with her boyfriend.
I have to be honest and say the romantic aspect of Doctor Who is one of my absolute favorite things. I know it's not too everyone's taste and that's okay, but for me at least I don't think I would be nearly as invested in DW without the romance. I know it's a bit blasphemous to say this in whovian circles but the romantic aspect is one of the main reasons I prefer new who to classic. I don't love every romance in DW (not really a fan of River and the Doctor), but overall there is just a wonderful escapist element of the idea of going off on romantic escapades with a mysterious man in a blue box. It's almost therapeutic, like watching a slightly more grown up version of a Disney Princess falling in love with her prince. Plus I think there have been some very rich stories that have come out of the Doctor falling in love, my favorite being the epic, tragic and unconventional love story between 12 and Clara. To be honest I would be a lot less interested in Doctor Who without the romance, I mean I would still enjoy it but I don't think it would capture my imagination quite as much.