Post by elkawho on Oct 16, 2021 14:17:17 GMT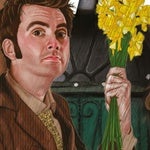 sherlock
's. It's certainly got that epic finale vibe to it, but it does mean a lot of stuff isn't delved into and doesn't feel as well thought out or detailed as it should be. If they'd been in the first or second sets then we'd have been listening to different, and, dare I say, more substantial stories.
The First Son plays its hand too late and whilst the Movellans are used effectively and we get some nice content with them, it also feels at a disservice to the story. We know it will ultimately end up being River, so for it to go on so long and not get much "actual" River also feels like a disservice. I do like her presence throughout the set, though, even if she's not actually in the final two episodes!

The Mark Seven twist isn't massively surprising and not a lot is done with it. We don't know about his origins, why it happened or what actually happened to make him turn out how he did. It all ends up feeling like it's baiting for a spin-off or further adventures outside of Dalek Universe, rather than serving this series.

Davros has a lot of scenes but ultimately I'm not really sure he needed to be in it. His scenes with the Doctor are nice, but a redux of Journey's End and as it's placed much earlier for Davros, and is set during a particular gap, their interactions always feel stilted, as do his plans and motivations.

The Daleks have more involvement than they do in the previous two sets, but I still don't think it's massively substantial. The Doctor's interaction with them is to recap The Chase and The Daleks Master Plan and that's pretty much it! 9 episodes and a range called Dalek Universe and we don't get a "proper" Dalek story or a "proper" Doctor vs Dalek event.

Probably the biggest issue I had was the characterisation of the Doctor and Anya. They've been so good and my biggest compliment about this range has been the way the Doctor has been written. In this final set he almost seems to revert back to his regular self, which feels a bit of a shame, and I'm not sure why he's written to be like that. Same for Anya, she's been very well served but in this set she's almost watching events rather than actively participating and reacting to them.
Overall it does a great job at linking back to the previous sets continuity wise and pulling story elements together, but in doing so seems to forget that our leads have gone on a journey too! I am quite critical in the spoiler tags, but I have given the set a 4/5, as I had a great time listening, but ultimately feel as though this set is quite reductive and hollow compared to the preceding two.
I find it pretty amazing that I feel exactly the opposite from you in every single point you make. How is it possible that we listened to the exact same thing and our take-aways were polar opposites? So strange.
I thought The First Son was brilliant, and I loved that they saved the actual River for the end. It felt like a reward as a listener for believing in her the whole time. (And as an aside, I loved finding out in the BTS that it was DT who realized that the reveal has been missed at all. Nice little bit of info.)
I, for one, was surprised by the Mark Seven reveal. And I don't need all the back story, since it wouldn't really move this one forward. Will we get that back story some time in the future? I don't know, and I don't care. It was The Doctor and Anya's response to seeing Mark like this and the inability of "their" Mark to return that is relevant. I do like the fact that Mark never ends up remembering, or caring, about his former friends. That along informs the listening that whatever happened, it was bad enough. This is a whole new character now.
But by far the biggest disagreement I have with your review is regarding The Doctor's characterization. Whaat??? I don't understand what you mean when you say that he "seems to revert back to his regular self". What regular self? I actually think he is written brilliantly and DT's performance is the best he's given as The Doctor since he brought Donna home. Ok, I'll give it since Waters of Mars. This IS 10th Doctor, series 5 for me. Volumes 1-3 are the best thing BF has released this year, and I don't see it being surpassed.