Post by omega on Sept 2, 2017 6:55:37 GMT
DOCTOR WHO - MAIN RANGE » 123. THE COMPANY OF FRIENDS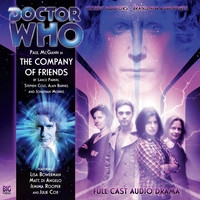 Large Cover
Released July 2009Synopsis
Four one-part stories:
1. BENNY'S STORY
by
Lance Parkin
Deep in the mines of Epsilon Minima, Professor Bernice Summerfield is up to her neck in it - as usual. The Countess Venhella has hired her to recover a lost Time Lord artefact: A TARDIS key, it turns out. Guess whose?
2. FITZ'S STORY
by
Stephen Cole
On the planet Entusso, the Doctor and Fitz Kreiner investigate Alien Defence Incorporated - your one-stop shop for protection against extraterrestrial invasion! But which is the greatest menace: the hideous Vermin Queens or ADI itself?
3. IZZY'S STORY
by
Alan Barnes
TARDIS travel opens one's eyes to a universe of possibilities, reckons the Doctor. For geek girl Izzy, it's also a fantastic way to track down ultra-rare back copies of 'Aggrotron!', the most dangerous comic in history...
4. MARY'S STORY
by
Jonathan Morris
Switzerland, 1816: at the Villa Diodati, Lord Byron's house guests tell each other tales to curdle the blood and quicken the beatings of the heart. With a monster on the loose outside, young Mary Shelley isn't short of inspiration.
Written By:
Lance Parkin (Benny's Story), Stephen Cole (Fitz's Story), Alan Barnes (Izzy's Story) and Jonathan Morris (Mary's Story)
Directed By:
Nicholas Briggs
CAST
Paul McGann (The Doctor)
Benny's Story:
Lisa Bowerman (Benny), Richard Earl (Klarner), Su Douglas (Venhella)
Fitz's Story:
Matt di Angelo (Fitz Kreiner), Fenella Woolgar (Commander Hellan Femor), Paul Thornley (Michael Rond), Su Douglas (Gem Weston)
Izzy's Story:
Jemima Rooper (Izzy), Steve Hansell (Grubb/The Man), Teddy Kempner (Grakk/Clerkie/The Camp Robot), Anthony Glennon (Courtmaster Cruel), Robert Forknall (Foreman), Katrina Cooke (Juror), Robert Forknall/Ian Hallard (Suits), Ian Hallard (Captain Cannibal)
Mary's Story:
Julie Cox (Mary Shelley), Anthony Glennon (Percy Shelley), Robert Forknall (Lord Byron), Ian Hallard (John Polidori), Katrina Cooke (Claire Clairmont)
BONUS EPISODE!
THE COMPANION CHRONICLES:THE THREE COMPANIONSCremation Point
by
Marc Platt
As the end of a world approaches, Polly, Ben and Jamie attempt to escape the Gathernaut.