Post by Whovitt on Apr 30, 2021 13:59:49 GMT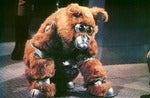 Ian: Hello? Barbara?
"Barbara": I think this time it really is the end of the Daleks.
Ian: I'll check the cupboards, but I think we've run out.
"Barbara": They're sounding the drums of [something, possibly "attack"].
Their city was all but destroyed.
Ian: We do have cinnamon sticks, but...
"Barbara": Living in a world that doesn't seem...
Ian: Good grief.
"Barbara": [inaudible]
Ian: No, you're not imagining it. It's materialising in front of me right now. No. It's making the noise but it's not a police box. Actually, it's in the shape of a refrigerator. Well, he did always say he'd fix it one day, didn't he?
"Barbara": Oh, Ian.
Ian: The door's opening.
Veklin: Ian Chesterton?
Ian: Yes. Is the Doctor with you?
Veklin: No. I need you to come with me.
Ian: What?
"Barbara": ...had to cut her clothes off for the surgeon to be...
Ian: No, it isn't the Doctor. It's a woman.
Veklin: I also need you to end that call. Nobody can know about this mission.
Ian: Mission?
Veklin: End the call now.
Ian: I'll see you in a bit, Barbara.
"Barbara": Goodbye.
Not sure if this is really of any interest to anyone, but I thought I'd share it just in case

I honestly can't believe this - I've just discovered the bolded section in
The Hollow Crown
!!! It's "They're sounding the drums at the tower" (Episode Four, Track 04; 1:36)! Also, a mere 9 seconds later she says, "Living in a world that doesn't value honour anymore" (see the follow-up quote in the sequence). Then, at 1:56 of the same track she says, "Oh, Ian", followed by, "I had to cut her clothes off so the surgeon could attend to the wound," at 2:03. That suggests that all the dialogue in this conversation is actually various quotes of Jemma Powell's version of Barbara. It would certainly make sense of the Dalek quote that I couldn't identify; it's probably from
Return to Skaro