Post by omega on Oct 27, 2016 5:31:40 GMT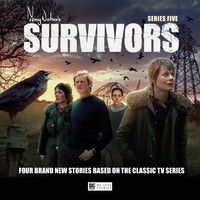 Released November 2016Synopsis
It begins with just a few people falling ill. Another flu virus that spreads around the globe. And then the reports begin that people are dying…
When most of the world's population is wiped out, a handful of survivors are left to pick up the pieces.
Cities become graveyards. Technology becomes largely obsolete. Mankind must start again. But viruses are survivors too...
5.1 The Second Coming
by Andrew Smith
Millions died when the plague swept the globe. Such a thing couldn't possibly happen again - or could it?
When Abby Grant and Evelyn Piper both arrive at Carol Baker's Maythorne community, a chain of events is set in motion that could unleash a new wave of death across the country.
5.2 New Blood
by Christopher Hatherall
Danger surrounds Whitecross when a simple border dispute exposes deadly tensions between those who live side by side.
Greg Preston and Jenny Richards soon find themselves fighting for their lives, as people in the grip of a terrible new fear turn to the old ways to protect themselves...
5.3 Angel of Death
by Simon Clark
Emerging from a quarantined Whitecross, Greg and Jenny discover that the danger they glimpsed at Springton is far from over.
Meanwhile, as isolated communities find themselves exposed to a disease they know nothing about, Abby joins a desperate race to save lives.
5.4 Come the Horsemen
by Andrew Smith
In times of crisis, rumour and fear run rife across the decimated landscape of Britain. Evelyn and Abby experience the lethal effects of this panic first hand.
At such times the worst of humanity is exposed. Can Greg and Jenny find the best in those around them? Or is there no way to avoid the coming of the horsemen?
NOTE: Survivors contains adult material and is not suitable for younger listeners.
Written By:
Andrew Smith, Christopher Hatherall and Simon Clark
Directed By:
Ken Bentley
CAST
Carolyn Seymour (Abby Grant), Ian McCulloch (Greg Preston), Lucy Fleming (Jenny), Fiona Sheehan (Hannah), Evelyn Piper (Zoe Tapper), Neve McIntosh (Carol Baker), Sean Biggerstaff (Healy), Barnaby Edwards (John Woodley/Old Scavenger/Stuart), Andy Secombe (Ben Turner), Fintan McKeown (Patrick Regan), Richard Hope (Silas Broome), Alex Clatworthy (Summer Broome/Elsie), Donna Berlin (Pearl Ironsmith), Ekow Quartey (Dylan), Elizabeth Payne (Beatrice/Margo), Roger May (Lenny Bryson)