Post by omega on Feb 14, 2018 8:40:22 GMT
BIG FINISH ORIGINALS » 1. ATA GIRL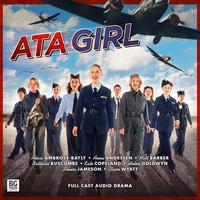 TBR April 2018
Synopsis
An all-new Original series from Big Finish Productions, available singly or as part of the Big Finish Originals bundle
'ATA Girl' is a drama inspired by the real women of the Air Transport Auxiliary during WWII. From the UK and beyond, a hundred and sixty eight female pilots, alongside the men, transported a vast range of aircraft from the factories to the squadrons, sometimes flying in perilous weather conditions and without radios or instrument instruction.
One in ten ATA pilots died.
Told as a series of reminiscences from (fictitious) former pilot Amelia Curtis, the stories aim to honour these unsung heroes of WWII, whose shared passion for flying contributed so much to the war effort and who represented one of the first examples of 'equality in the work place' for women in the UK.
1.1 Up in the Air by Gemma Page
It's March 1944 and young widow Daphne Coyne arrives at the Air Transport Auxiliary, having signed up to train as a new pilot. Already unsure of her decision, she is shocked to find that her estranged younger sister, Rebecca, has also joined the ATA, hoping for a chance of reconciliation. As Daphne grows close to her flying instructor, the injured former RAF pilot, David, and discovers an unexpected passion for flying, the two sisters try to navigate their broken relationship. But David has family trapped in Belgium and Daphne has a plan that could jeopardise all of their futures…
1.2 Dancing With A Spitfire by Victoria Saxton
In 1942, Glamorous 'It Girl', Second Officer Mina Lauderdale is enjoying her work with the ATA, flying her aircraft recklessly and living up to her nickname, 'The Wildcard'! However, amidst all of the press attention, the partying and the endless flirting, Mina is secretly running away from an unwanted destiny. It's only when she meets outspoken US pilot Jeanette that Mina finally begins to discover her true self and face up to the reality of who she wants to be.
1.3 Flying Blind by Helen Goldwyn
1942-43, Judith Heathcote has been with the ATA since the start and is one of the few mothers in the Corps. With her husband 'missing presumed dead' and her daughter living with her parents, Judith is beginning to question the sacrifices she's making for the war effort. Seen as a maternal figure by many of her colleagues, it seems that Judith looks out for everyone but herself. So when a chance of happiness arises, she seizes upon it, only to find herself caught up in a series of events that propel her towards an unthinkable solution.
1.4 Grounded by Jane Slavin
It's early 1945. The end of the war is closer than the pilots realise, but meanwhile there is an unexpected air raid to contend with. When the sirens sound at the ATA ferry pool, the women have to find a way to protect themselves and each other: some making it to the bomb shelter, whilst others are trapped above. Elsewhere, RAF pilot Walter (already traumatised by his war experience) has come to seek solace with ATA pilot Amelia. She and her best friend Widdley, do their best to comfort him, but with war still raging around them, they are reminded of losses suffered... and losses still to come…
Written By: Gemma Page, Victoria Saxton, Helen Goldwyn, Jane Slavin
Directed By: Louise Jameson
Cast
Alicia Ambrose-Bayly (Amelia), Anna Andresen (Daphne), Matt Barber (Walter Richardson / Daniel), Nathalie Buscombe (Judith), Tor Clark (Rebecca), Kate Copeland (Pauline Gower), Oliver Dimsdale (David Stein / Cadet), John Dorney (Nurse Norris / Major Charlie Blackthorn / Roger), Amy Downham (Tilly / Operations Officer), Nigel Fairs (Freddie / Norman / Mr Thomas), Helen Goldwyn (Chile / Anna Leska / Elizabeth Bryant), Holly Jackson Walters (Felicity / Jackie Cochran / Billet Mate), Louise Jameson (Rose), Gemma Page (Dorothy Fury / Barbara), Lucy Pickles (Widdley), Lydia Piechowiak (Susan De Winter), Jess Robinson (Jeanette), Jane Slavin (Mrs Cook), David Warwick (Harry / Mervyn Symms), Matthew Wellman (Eric / Flight Captain Bryant), Claire Wyatt (Mina). Other parts played by members of the cast.