Post by omega on May 28, 2018 9:06:11 GMT
BIG FINISH ORIGINALS » 4. SHILLING & SIXPENCE INVESTIGATE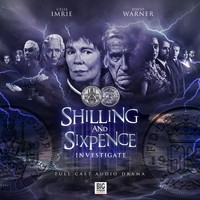 TBR July 2018Synopsis
Available either here as a release or as part of the Big Finish Originals bundle
Based on Nigel Fairs's "murder mystery serial" that has been running for over 21 years (new episodes performed every month in country houses, steam trains, jailhouses, castles and restaurants throughout the UK), Shilling & Sixpence Investigate takes place in a sometimes quirky, sometimes dark world where nobody is quite whom they seem.
With a stellar cast that includes Celia Imrie, David Warner, Louise Jameson, Matthew Waterhouse and Samuel Clemens, Big Finish listeners are about to discover why audiences come back month after month, year after year, for another episode…
1. The Missing Year and 2. Dark Shadows by Nigel Fairs
February 1939. Desmund Shilling (David Warner) arrives in Morlington Hill, deep in the heart of Cornwall, having been given the post of Head of English at Morlington School for Girls by the hearty headmistress Lavinia Sixpence (Celia Imrie).
Not far away, at Boothby Hall, Inspector Cribbage (Nigel Fairs) and Sergeant Salt (Max Day) are investigating the horrific murder of Lord Pluck (Samuel Clemens) - who is to blame? His grieving widow, Lady Penelope (Abi Harris)? His impetuous son, Viscount Robert (Matthew Waterhouse)? The no-nonsense cook (Rebecca Crinnion) or the handsome young school caretaker Joseph (Radley Mason)?
Miss Sixpence and Mr Shilling mount their own investigation, and very soon, horrible truths come to light…
3. In the Silent Dead of Night and 4. A Very Messy Business by Nigel Fairs
The eccentric Baroness Pippin invites a select group of people over to the remote Pippin Island for a séance, held by her theatrical houseguest Madam Caysey. When one of the circle is murdered, Miss Sixpence thinks she knows whodunnit… but, as storm clouds gather over the island, nobody is safe…
5. An Appointment with God and 6. The Dying Room by Nigel Fairs
As the sea mist crawls across the village, tales circulate of a mysterious creature lurking in the fog. When Lavinia is kidnapped, Desmund Shilling realises that she is in mortal danger, as all the appalling events that have occurred since he arrived in the village start to form a pattern…
7. The Face of an Angel and 8. The Black Widow by Nigel Fairs
On the eve of the Second World War, the villagers prepare for their annual St Bernard's Day celebration. But all is not well, as Inspector Cribbage tells Sister Mary Benedicta (Louise Jameson) at the freshly dug grave of a much loved villager…
Written By:
Nigel Fairs
Directed By:
Samuel Clemens
Cast
Celia Imrie (Miss Lavinia Sixpence), David Warner (Desmund Shilling), Louise Jameson (Sister Mary Benedicta), Matthew Waterhouse, Samuel Clemens