Post by elkawho on Feb 9, 2020 5:20:21 GMT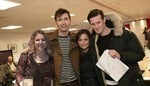 You managed to convince me to love 'Love and Monsters' which I thought was
impossible
so I'll keep trying to convince everyone to enjoy the comedy brilliance that is 'Orphan 55'!

Really, looked at line by line, scene by scene, I don't 'buy' that it could be like that without doing it deliberately. A story might contain one or two cliches, tropes and stock characters well overacted but there are limits...

As well as all the obvious 'flaws' in the episode you pointed out in your post on the 'Orphan 55' thread, a few more of the incidents and character moments that convinced me were:

The Long-Lost Daughter (soap trope #1 alert!) destroying her Heartless Absentee Mom's business for revenge.
And she has come via
the resort's own teleport
without anyone noticing she has enough destructive kit to make Ace jealous.
The Greedy Executive who can afford the funding to set up the holiday dome but still takes the Nice Eldery Lady's jewellery to show how mean and greedy she is.

The Super-Smart Kid who knows more than his Ordinary Joe dad and for no reason runs off from the one secure location so he can hide in a Very Dangerous Place instead and need rescuing. (Homage to Ripley rescuing Newt in 'Aliens'.)

The Nice Elderly Man saying to his Nice Elderly Lady Partner of 46 years: 'Two questions: Will you marry me? And will you kill me?' (Oh my!

) This would be clearly be physically impossible under the circumstances, since he was outside the vehicle and captive of the Dregs, and I can't believe
that
dialogue was intended to be serious. Which is why, I think, we didn't
see
him. That would have looked horrifying, but his words alone were simply ridiculous.
Not to mention that the Nice Elderly Lady later going doolally and throwing herself at the Dregs was beyond parody, unless it
was
. '
Benniiiiiiii....
'
Etc. Etc. Etc.

And for the encore, "Global warming will turn ordinary people like us (Dregs!) into ravening monsters surviving on a barren Earth from where the rich exploiters have fled" reveal -
and the Doctor's very very subtle message to the Fam at the end.
I rest my case.
Can it be that you just made my case for me? (And yours, depending upon you point of view!)