Post by themeddlingmonk on Jul 26, 2021 16:23:22 GMT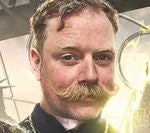 The Doctor describes the events of Planet of the Dead as happening "just recently".
ADELAIDE: It can't be stopped. Don't die with us.
DOCTOR: No, because someone told me just recently. They said I was going to die. They said he will knock four times, and I think I know what that means, and it doesn't mean right here, right now, because I don't hear anyone knocking, do you?
A lot of stories commonly put between
Planet
and
Waters
don't necessarily have to be there. Strictly speaking the only thing I can think of that is definitively in that gap is the IDW run which ends with the Doctor going to Mars, leading into
Waters
. Titan initially claimed their run started near
Planet
, but who knows if that still holds true.
So stuff like
Wedding of Sarah Jane
, DWM run and I suspect most of the novels could be shuffled to either pre
-Planet
 or post-
Waters
with relative ease.  
I mean I wouldn't want to move The Wedding of Sarah Jane Smith around. I know most of these can be moved but it's just interesting that there's this assumption that there's a big sprawling gap there when really you wouldn't realistically put all these companion gaps in there.
The novels are difficult because they have the Doctor longing for a new companion which only really makes sense after Planet of the Dead. But then I think the gap is probably big enough to fit the novels anyway alongside the IDW comics.
Yeah you're right about the Titan stuff. To me it feels as though towards the end Year 3 they'd changed the placement to between Waters of Mars and The Day of the Doctor with events leading up towards DOTD rather than WoM as initially intended. However every article I can find interviewing Nick Abadzis who wrote the stories seems to push the Planet of the Dead/Waters of Mars placement.
This definitely makes me think that the gap between Waters of Mars and End of Time is a lot bigger than we might think and that it's the best place for new companions. Particularly as the cafe scene in End of Time doesn't really allow for new companions prior to that.